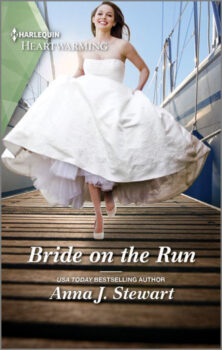 Butterfly Harbor #9
January 1, 2021
Harlequin (Heartwarming)
Available in: Paperback, e-Book
Bride on the Run
Finding true love…
In the unlikeliest places!
Sienna Fairchild never imagined she'd be a runaway bride. Or that she'd stow away on a worn-down boat belonging to handsome tour operator Monty Bettencourt. Monty's used to navigating rough seas, but Sienna might overturn his whole life, and avoiding drama is tough in such close quarters! If Sienna's sure she doesn't know what she wants, then why does running away feel so much like coming home?
USA TODAY Bestselling Author
Mass market paperback large print edition published January 12, 2021.
Butterfly Harbor Stories
Book 1: The Bad Boy of Butterfly Harbor
Book 2: Recipe for Redemption
Book 3: A Dad for Charlie
Book 4: Always the Hero
Book 5: Holiday Kisses
Book 6: Safe in His Arms
Book 7: The Firefighter's Thanksgiving Wish
Book 8: A Match Made Perfect
Book 9: Bride on the Run
"I enjoy runaway bride stories and this is a fabulous one! I've never read one where the bride is a stowaway on a boat before. It's a fun setting."
~5 Stars, Top Pick, Harlequin Junkie Reviews (read full review here)