Meet Anna
What happens when geek girls grow up? This one became a romance writer.
You've met me (or someone like me) before. I was the girl who spun in circles on the playground hoping my Wonder Woman costume would magically appear before playing cops and robbers a la Charlie's Angels–Sabrina was my favorite. I was the girl in the back of the class with a paperback romance hidden in her algebra book (and yes, I failed algebra). I was the girl making up stories about the Starship Enterprise and trying to figure out how I could join the Hardy Boys on their latest adventure.
I can't remember not having a book in my hand or a story in my head. Growing up in the 70′s and 80′s meant there weren't a lot of YA books, so I ventured early into mainstream fiction and read Stephen King's CARRIE at the age of 8. Discovering Nora Roberts and romance novels early in high school opened my eyes to the wonders of storytelling and the beauty of a happily ever after.
There's something incredible about creating something out of nothing, of having a glimmer of an idea transform itself into a story somewhere between thought and fingers. Creating rich characters with life altering conflicts, setting them on their journeys of self-discovery to their happily ever afters is what I live to do. It's what I love doing and there is nothing like the rush that comes from bringing a story to life with the stroke of the pen or the click of the keys.
So here I am, many years later, an English Degree on my wall, countless stories in my head, and coping with a serious addiction to STAR TREK, SUPERNATURAL, and all things Disney. An author writing sweet and mainstream romance, romantic suspense, and thrillers.  Life doesn't get any better than that.
Traditional Bio:
Anna J Stewart is the USA Today bestselling author of more than fifty sweet to spicy romances. Primarily writing for Harlequin's Heartwarming (sweet romance) and Romantic Suspense (spicy) lines, she also writes romantic thrillers for Arc Manor's Caezik Romance. In addition to being a Holt Medallion winner (Bride on the Run), she's finaled in the Daphne duMaurier Award for Excellence, the National Readers' Choice and had one of her books optioned as a TV movie. No matter the story, Anna's books are always about family—the ones we're born to and the ones we create. Anna lives in Northern California where she loves going to the movies, attending fan conventions, and heading to Disneyland, her favorite place on earth. When she's not writing, she is usually cooking, baking, binge-watching her newest TV addiction, or re-watching her all-time favorite shows, Supernatural and all things Star Trek. She also spends a frustrating amount of time wrangling two monstrous cats named Rosie and Sherlock.
IN HER OWN WORDS…
Click on the links below to hear Anna's podcast interviews on various subjects (mostly writing, but other fun stuff, too!)
THE CATEGORICALLY YOURS Romance Podcast (August, 2021)
THE CATEGORICALLY YOURS Romance Podcast (Catching Up, December 2021)
THE CATEGORICALLY YOURS Romance Podcast (Blackwell Edition, July, 2022)
THE CATEGORICALLY YOURS Romance Podcast (Take Four, NaNoWriMo, November, 2022)
L.K. Hill Podcast (November, 2022)
Lurking for Legends Podcast (November, 2022)
Hidden Gems Podcast (November, 2022)
Aaron's Reading Room (EXPOSED, November, 2022)
GSMC Podcast (November 2022)
Amazon Live with DC Gomez (October, 2022)
Writers Corner (November, 2022)
Previous Podcasts
Did you know…
In most of her books, Anna pays homage to her all-time favorite show, SUPERNATURAL. Read for Easter Eggs!
When not writing, Anna loves attending fan conventions and experimenting with cooking and baking (GBBO is another OBSESSION!).
Each of Anna's heroines is represented by a select Barbie that sits on her desk as she writes. Well, that used to be the case. She's since run out of room.
Her favorite Disney character is Tinkerbell. Followed by Dory, who just keeps swimming–Anna's motto!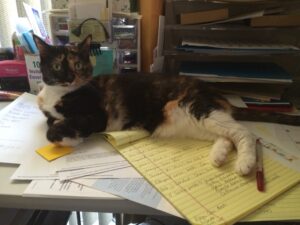 In Memoriam
I lost my beautiful, annoying, ever-present feline editor Snickers in April of 2018. Those with shadow pets know how hard this can be, but I'm so grateful for the years I had with her. Hold and hug your fur babies tight. They truly help light up our world. There will be more cats…but there will never be another Snickers.