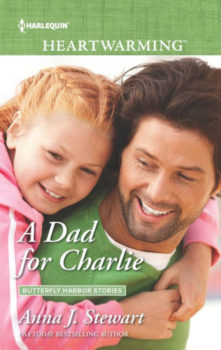 Butterfly Harbor #3
August 1, 2017
Harlequin (Heartwarming)
Available in: e-Book, Large Print
A Dad for Charlie
Doesn't she know she can trust him with anything?
To Butterfly Harbor deputy sheriff Fletcher Bradley, Paige Cooper is a mystery he's dying to solve. Ever since the single mother and her equally irresistible young daughter showed up, life in his California town has changed for the better. Fletch isn't sure what Paige is running from; he only knows she's keeping some pretty serious secrets. Yet here she is, already a vital part of the community and working with him to crack a series of recent break-ins. Paige has to trust someone sometime. And it's going to be Fletch. Doesn't she know that she belongs here—with him?
"As an avid reader I always enjoy finding an author whose books I have not read, and Anna J Stewart's A DAD FOR CHARLIE was no exception. I now plan to read previous books in the Butterfly Harbor series. Will Paige start feeling she can trust Fletcher and her other new found friends? Will Charlie succeed in bringing her mom and Fletcher together? To find out, I highly recommend picking up a copy of "A Dad for Charlie".
~4 Stars, Harlequin Junkies
"I…recommend this book for anyone who loves a bit of mystery, adorable little girls, treasure, and a mom who's willing to do anything to protect her child."
~4 Stars, Night Owl Romance (read full review here)
"The plot is interesting as it brings Fletch and Paige together to solve a mystery, and the intensity builds with a few twists. I thought the addition of a third POV would be distracting, but the author clearly knew what she was doing, because seeing a scene through the eyes of Charlie was an added bonus. The child's wish of having a father pushed the buttons of emotion."
~5 Stars, Still Moments Magazine (read full review here)