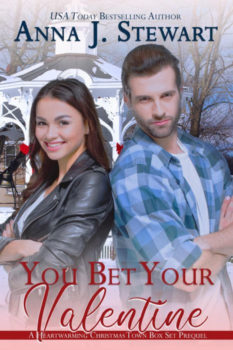 Heartwarming Christmas Town #6
September 9, 2019
Indie Published
Available in: e-Book
You Bet Your Valentine
This sweet/clean romance kicks off the 2020 boxed set collection BE MY HEARTWARMING VALENTINE written by Harlequin Heartwarming authors.
To raise money for Christmas Town's winter-damaged historic library, old rivals join forces and ignite some serious sparks: just in time for Valentine's Day!
This past Christmas and holiday season were rough for Christmas Town, Maine. An abnormally cold winter wreaked havoc with a lot of the town's infrastructure, but the hardest hit was the historic town library. While a lot of the businesses have stepped up to help, it's not enough. The town needs some fresh ideas and some fresh blood to lead the charge. But not to worry, The Knotty Elves have some ideas…and not just about the library.
Roxanne Prescott had hoped to keep her New Year's visit to Christmas Town under the radar. The last thing she expects is to get conned into organizing and running the Valentine Bachelor Auction along with her former high school rival Tristan Ramsey. With her event planning business on the verge of collapse, the last thing she needs is to come face to face with Tristan and his successful, perfect life.
Tristan Ramsey's successful, perfect life is about ready to implode. He's come back to Christmas Town to help his parents move to Florida, and even that isn't going well. Being tricked into working with Roxanne Prescott—his high school nemesis—may prove more complicated than expected. Turns out, Roxanne is even more competitive than before! The only way to make her happy is to bet—and bet big—on who can acquire the most bachelors for the library fundraiser.
The bet? If Roxanne wins, he'll share his roster of wealthy clients for her event planning business. If he wins? She'll plan his upcoming non-existent wedding. Seems simple enough. Until Tristan realizes he's bet on more than his success. He's bet his heart as well.
Hang on tight because Christmas Town may never be the same!