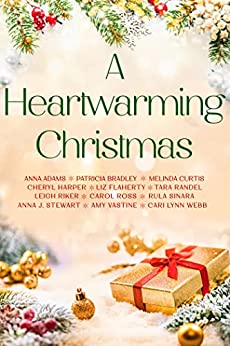 Heartwarming Christmas Town #1
October 13, 2015
IndieWrites, Inc
Available in: e-Book
A Heartwarming Christmas
Welcome to Christmas Town where local legend has it that a kiss beneath the gazebo on the town square during the holiday season means a wedding in the new year.
Hang the stockings, polish the Christmas tree topper, and get ready to sing carols, because the Harlequin Heartwarming authors are bringing you a dozen sweet romances set in charming Christmas Town. This year is all about family – sisters, brothers, parents, and the family you make along the way!
If you enjoy Hallmark, UPTV or Great American Family TV holiday movies, you'll love this collection of clean, heartwarming romance, each with a happy-ever-after and no cliffhangers. There's something for everyone, including second chances, local heroes, family dynamics, horses and animal rescue, later in life romance, friends to forever love, and more!
Be sure to check out our companion series The 12 Days of Heartwarming Christmas, featuring one novella and 12 full-length holiday romances. These books, also set in Christmas Town, feature the restoration of the old carousel and preparation for a Christmas wedding.