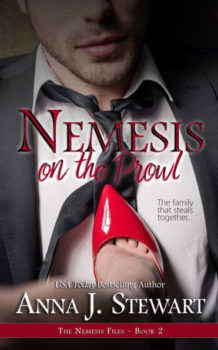 The Nemesis Files #2
May 24, 2018
CreateSpace
Available in: e-Book, Trade Size (reprint)
Nemesis on the Prowl
The family that steals together…
Former beauty queen Sheila Tremayne looks dainty, but she's tougher than she seems. The hard-as-nails business woman is determined to bring down corruption among Lantano Valley's rich and powerful. Her latest scheme to get technology tycoon Chadwick Oliver is going perfectly until a distraction arrives in the form of Malcolm—the man who broke her heart and who happens to be Chadwick's son…
Malcolm spent five long years away after his father publicly blamed him for some shady business dealings. Now he's back to exact some revenge. Reconnecting with Sheila was never part of the plan, but the second he sees her, there's no way he can resist…
Sheila and Malcolm quickly fall into the sizzling passion between them and soon begin to believe there's more to life than vengeance. But how can Malcolm stay when he knows the secret he's keeping is the one that will drive them apart forever?
"There is never a dull moment with the Tremayne family. NEMESIS ON THE PROWL (HERE COMES TROUBLE) by Anna J. Stewart will tug at your heartstrings more than once while leaving you utterly besotted with her characters."
"This is a book that had me feeling lots of emotions…happy, sad, tenderness, anger, suspense, funny…it was just fantastic."
"Anna J. Stewart once again gives us a fantastic story of the Tremayne family. I could not put this book down, as I enjoyed every moment. I cannot wait for the next book in this series."
"This book seems to have it all: romance, suspense, friendship, guilt and forgiveness all blended together nicely. The author is very talented in creating characters, settings and suspenseful situations. In some parts I could not turn the pages fast enough, especially when reading about Nemesis and the art thefts. 5-Stars!"