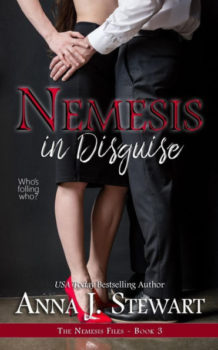 The Nemesis Files #3
May 24, 2018
CreateSpace
Available in: e-Book, Trade Size (reprint)
Nemesis in Disguise
Who's fooling who?
Nathan Tremayne shares a dangerous secret with sister, Sheila, and his father, Jackson. Together they are Nemesis, the infamous cat burglar who targets the wealthy. But when Jackson is framed for stealing the priceless Crown of Serpia, the whole family is at risk. Nathan isn't about to let his father go down for a crime he didn't commit, but finding the real culprit won't be easy with Laurel Scott, the nosy, pushy, drop-dead gorgeous insurance investigator following his every move.
But Laurel has secrets of her own. Posing as an insurance investigator was part of her own plan for the Tremaynes. A plan she has no choice but to follow through with. As their attraction heats up, and the truth comes out, will this pair of thieves steal each other's hearts? Or end Nemesis' reign once and for all?
"I'm sorry, but this section of the museum is closed until further notice."
The female voice drifted over Nathan with the same softness as the jasmine scent wafting down the tiled hall of the Wellington Museum. He glanced over his shoulder, eyes skimming the curvy figure of the brunette standing behind him. Polished, his sister Sheila would say; bordering on stylish from her tailored button-down white blouse and snug, knee-hugging black skirt, all the way to her sharp-toed patent black pumps. Every inch of this woman said collected and professional. Had it not been for the suspicious glint in her curious brown eyes and the fact he needed to get into that display room, Nathan might have let his gaze linger—and enjoy—longer.
"Yeah." He pushed away from the door frame and turned on the double-dimpled smile that had sent numerous women tumbling into his bed. "The crime scene tape kind of gave it away."
Her deep red lips didn't curve. They didn't even twitch. Instead, she tapped long, manicured fingers against her waist, kicking out a hip as she arched a brow. Her hair fell down her back in soft waves, hints of copper catching the recessed lighting of the museum's ceiling. Sable, he thought. He'd bet her hair would feel like sable sliding between his fingers.
Nathan resisted the urge to clear his throat, something he tended to do when uncertainty descended. He prided himself on being able to read people; it was after all, part of his job as a security expert and thief. Looking at this woman, however, filled his mind with an odd kind of static that prevented him from pinning her down. Appearances aside, there was something electric yet unreadable about her. One sparked his blood. The other . . . well. Nathan grinned. There was little he enjoyed more than a challenge.
back to Top
"…filled with in-depth characters, intriguing secrets, and strong family times that I wish I had. Laurel and Nathan are perfect for each other and their story is definitely an enjoyable one. If you're a fan of contemporary romance, you will adore this story!"
~5-Stars, TOP PICK, THE ROMANCE REVIEWS (read the full review here)
"I loved it so much I was heartbroken when I finished reading it. Nathan is a dream and Laurel won me from the start. This series tackles sensitive issues that makes you think. It's so much more than your average, everyday contemporary romance!"
~Liz Gavin (read Liz's review of the full trilogy here) 
"The story had a Thomas Crown Affair feel to it.  It's easy to lose yourself to this story.  All the Tremaynes are people you would love to know.  They truly are nice, loving, caring people.  This includes the extended family as well.  The Trouble with Nathan is not without surprises.  There are a couple.  Ultimately, this is a story about family."
~4.5 Stars, READ YOUR WRITES (read the full review here)
"I loved every moment of this story, loved everything about the Tremayne Family, loved Nathan and Laurel together.  Stewart blends a perfect romance, a suspenseful  and exciting story, and a wonderful family atmosphere.  I am already missing this family."
~The Reading Cafe (read the full review here)