A Sneak Peek from the Set of RECIPE FOR REDEMPTION
My dream of becoming a Harlequin author came true in December of 2014. At the time, I never anticipated, could never believe I'd hear news that would top that. How wrong I was.
On May 2, 2019, I received word that RECIPE FOR REDEMPTION, the second book in my Harlequin Heartwarming Butterfly Harbor series, had been optioned for a TV movie. For production this year. To air this holiday season (airdate and final title TBA).
*cue crazy author screaming through the house*
Yep, that's right. I pretty much lost it after hearing the news. My cats Rosie and Sherlock haven't recovered yet. Poor kitties, LOL.
To say having one of my books chosen is exciting and thrilling is an understatement: it's a dream come true. A sentiment I conveyed upon the cast and crew multiple times during my visit to the set just last week (but more on that later). At the time I received the email, I was in the process of gearing up to attend the Booklovers Convention in New Orleans on the 14th as well as finishing up a Honor Bound book for Harlequin Romantic Suspense. Needless to say my focus went a bit wonky for the following few days. Details trickled in over the next week, as did a copy of the script which, despite numerous changes, I was thrilled with. The heart of the story is still there, front and center. So much of my dialogue from the book remains. The fact they transformed RECIPE FOR REDEMPTION into a Christmas story made great news even better, since we all know how much viewers LOVE their holiday romance TV movies. So I settled in, prepared to wait for whatever came next.
Two days before leaving for New Orleans, I received a follow-up email letting me know that filming was set to start on May 14th! The day I was due to head out to BLC! So fast? Wait. That doesn't happen, does it? That's just crazy! How…um. Okay. The email also includes an invitation to visit the set before May 31st. Talk about life shifting into fast forward. Any hesitation I might have had vanished when I reminded myself that this was a dream come true. No way was I going to let this opportunity pass me by.
And so, seven days after returning from BLC, I was on my way once more, this time headed to a small town near Toronto, Ontario, Canada, to visit the set of <gulp>…my movie. Once I got packed, that is.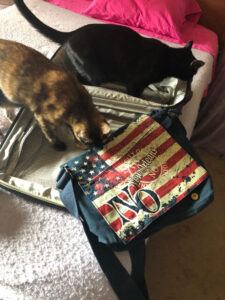 Did I mention I hate to fly? I'm not a good flyer and always prefer direct flights. As these plans were not in my hands, I boarded the first leg of my journey by getting bumped up to first class! Okay, it was only an hour flight, and the plane could probably double as Barbie's private jet, but hey! It was first class! And they serve the drinks in actual glasses! Yes, it's the small things that make me happy.  🙂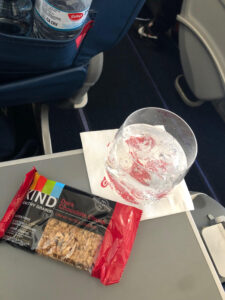 And, just to remind myself to enjoy and embrace every second of this trip, I took some time to appreciate the view above the clouds from Los Angeles to Toronto.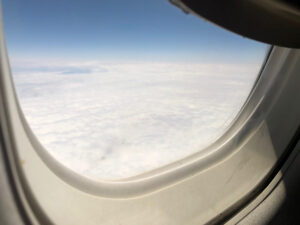 After a long day of travel, I arrived in Toronto at just after ten p.m., just in time for an hour drive to a small town nearby and head to bed. But I was up bright and early the next morning ready and anxious for my first day on the set. Hello, sunshine!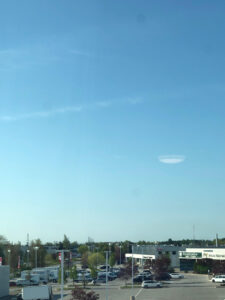 As I said above, I've been a fan of movies and TV my entire life. Being able to see how it all comes together and works behind the scenes fascinated me and no doubt I drove the crew nuts with my questions. Even knowing what I did, I was stunned at the number of people it takes to make a production like this happen. There are so many hands at work, so many talented people focused on making the best movie they can. From the director Marco Deufemia (below) and his team, to the script supervisor (Alexander Galant, also an author), to the costuming, lighting, makeup, sound, and…well, the list goes on and on. Every single person not only impressed me, they also welcomed me into their film making family and made this fan girl very happy.  As I write this, I'm hoping 1st AD Kevin Eade has gotten his voice back after losing it at the Raptor's game the night before.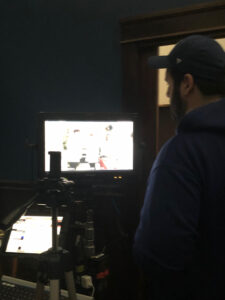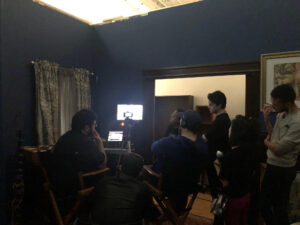 Below is one of the many storyboards they create for each scene and day of shooting.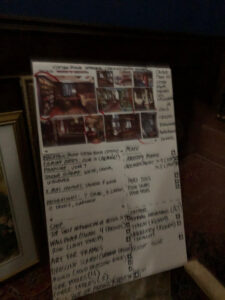 And here's the empty set of the first scene I watched them film (yes, those are fresh baked cookies and goodies!):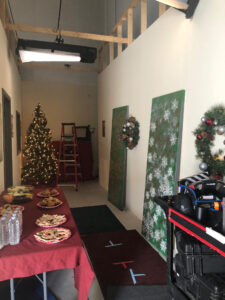 I was thrilled they asked me to do a walk-on, a-la Stan Lee (okay, admittedly, no lines), not once, but twice! Kudos to Jesse Manners for finding me a sweater to wear since…well, it's Christmas inside the studio. You'd never know it thought. Because the air conditioner makes so much noise, it was turned off AND it was a rather warm day outside. Needless to say, the makeup team had fun keeping my "glistening" to a minimum. After filming my scenes (yeah, okay, the lead actors had some things to do, too, LOL), I sat down for an interview on one of the sets that you'll see (looking different) in the final movie.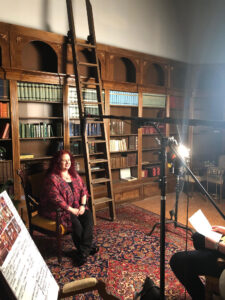 Thus my first day on set came to a close. Which led me to day two! First up? Did I mention I got my very own pair of headphones so I could listen like a pro? Thanks to Bob Charters, sound recordist, for making sure I could hear each and every word while we were on location at a local coffee shop (and for keeping me entertained during the down time).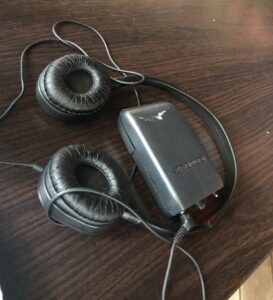 One thing I learned on day two, is there's a lot of scrambling when on location. I found myself a seat near the window and tried to stay out of the way. Tables and chairs and Christmas trees migrated around the space throughout the day; a green screen was set up outside for future digital work; cast and crew moved effortlessly around one another despite the surprisingly organized chaos.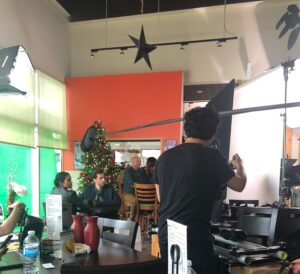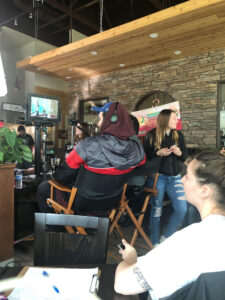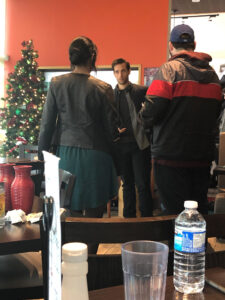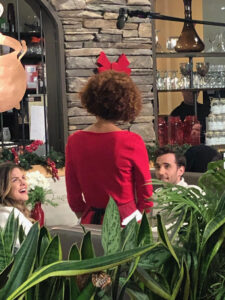 By five that evening, my time with the cast and crew came to an end. This seems an appropriate representation of how I felt, LOL.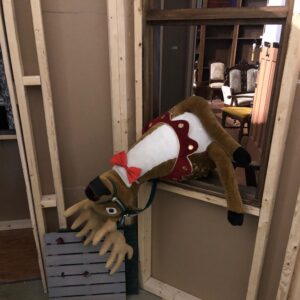 To say these whirlwind three days were a dream come true is an understatement. It's more than I ever could have hoped for and lived up to every expectation I had. My heartfelt thanks for the wonderful welcome this production company gave me and a special shout out to all the actors in the movie, especially Sebastian Sacco (playing Jason Corwin) and Madeline Leon (Abby). You're both so kind and talented and I'm thrilled to have you playing these characters. 
These people love their jobs and it shows. They move through their jam packed, long days with enthusiasm, professionalism, and humor, never forgetting that what they're doing brings joy to so many, including this very happy and grateful author.
RECIPE FOR REDEMPTION is in excellent hands. Thank you for choosing it.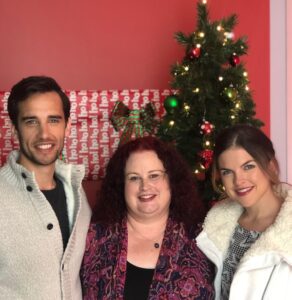 Surprising takeaways and crumbs of knowledge:
No one starves on a TV movie set. They eat well. And often. And they burn off every single calorie. I'm still thinking about those chicken and veggie kabobs. What I assumed were meals were actually snacks. The meals were fit for a room full of kings and queens.
Birds are the enemy. Filming on location means having to deal with unexpected elements; from customers who attempt to come in to a closed eatery, to ringing phones, to overactive refrigerators, to the sparrows perched under the eaves outside. So many things can go wrong and stop a take, but it was the birds who wreaked the most havoc. Much to AD Kevin's frustration. I couldn't help it. I laughed (silently!).
I never knew how much noise I made until I had to be completely quiet. I was afraid to breathe at times. I lost track of how often I worried I'd forgotten to turn my cell to silent. The silence needed to get the perfect recording is vital, and at times the surroundings did not cooperate. All part of the experience. All part of the every day world these filmmakers deal with. 
Thank you for coming on this journey with me. If you have any questions, please let me know in the comments! 
Cheers!
~Anna J
P.S. Of course it wouldn't be a complete trip without finding inspiration for a new story. And I did. Thanks to my behind the scenes adventure and this discovery back at the hotel, I've got a new trilogy of books percolating in my brain. And I can't wait to write it!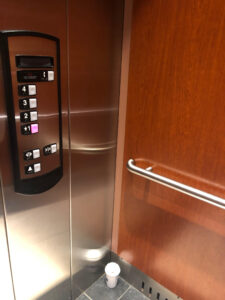 ---