REUNITED WITH THE P.I. Earns 4.5 Starred Top Pick Rating from Night Owl Reviews!
Thank you to Night Owl Reviews for this amazing 4.5 Star Top Pick review of REUNITED WITH THE P.I.!
I'm thrilled Vince and Simone are striking a chord with readers. <3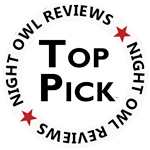 "The story is multi-layered, with shady politicians, an emotional backstory involving Vince's brother, and a personal loss that spurred Simone into putting her career over her marriage. 
The plot is intelligent and the story is fast paced with plenty of twists and action. The romantic side worked just the way I like it, with plenty of buildup before the fireworks explode."
---