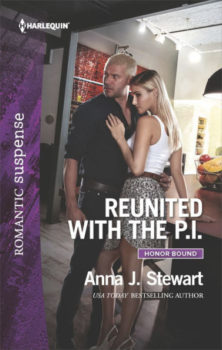 Honor Bound #2
May 1, 2017
Harlequin Romantic Suspense
Available in: Paperback, e-Book
Reunited with the P.I.
In this Honor Bound romance, a perilous change of heart looms for two former lovers…
Exactly why should P.I. Vince Sutton take his ex-wife's case? Because she, assistant district attorney Simone Armstrong, put his brother in jail? Because the ambitious spitfire still drives him crazy? No, he'll take it because "The Avenging Angel" makes him a deal he can't refuse. Sparks fly when Vince works all-too-closely with Simone to locate her missing key witness…but in the process, they are drawn into a cold case. As much as he tries, Vince can't deny that he's never gotten over beautiful Simone, but can he admit his feelings to her—and himself? And can he save her from the danger that's heading their way?
"Now that's not something you see every day."
The dazed wonder in his most recent hire's voice had Vince Sutton glancing up from where he'd been filling a third pitcher of beer. It was a Thursday night and the regulars were in The Brass Eagle. "What's that?"
Since he'd hired Travis Fielding all of three months ago, Vince had found there was little that didn't amuse the college senior. Tall and gangly with an odd penchant for retro seventies' paisley and sideburns, the computer science major seemed to be off in his own world most of the time.
"Tell me that's not an angel who just walked in." Travis suddenly jumped back as he'd over-poured the line of tequila shots. The pungent liquid dribbled over the lip of the bar and onto the kid's pristine white sneakers. 
Despite hearing the distinct cha-ching of lost cash, Vince tossed Travis a towel. When he glanced over again, he found his employee's "angel" standing directly across from him. "Simone."
Vince went numb as he took in the familiar lush waves of thick hair, her startling sapphire-blue eyes that, despite every attempt, couldn't hide her emotions. Not from him, at least. Had it really been three years since he'd touched her face, those cheekbones? Trailed his finger down that pointed nose that only hinted at the stubbornness he knew she possessed? Traced that small tattoo on the base of her—
"Hello, Vince." 
Her voice washed over him, sultry, intoxicating. How two words could hold so much—a greeting, a promise, a reminder—was beyond him. Then again, he'd stopped trying to figure out Simone Armstrong around the time he'd served her with divorce papers. 
As if by rote, he reached for a bottle of Riesling. He poured her a glass before her tempting smile captured him completely. "You're looking good." As if Simone could ever look bad.
Beside him, Travis guffawed and blinked wide eyes at Vince as if he'd become his idol. 
Simone still had that classic Hollywood blond bombshell thing going for her. But beyond the seductive touch of Veronica Lake and the fulsomeness of Marilyn's curves, there was more than a fair share of the smart spitfire combo of Hepburn and Bacall. 
"So are you." With a slight nod, she accepted the wine he offered. "Hello." She offered her other hand to Travis, who scrubbed both his palms hard against his chest before taking her hand. "I'm Simone Armstrong."
"She means Deputy District Attorney Armstrong. The Avenging Angel," Vince added with enough venom in his voice to make Simone's eye twitch. "And this, Simone, is Mr. Travis Fielding. I'm betting he'll find his voice once he picks it up off the floor along with his tongue." His gaze skimmed her as low as he dared. "I see you haven't exhausted the fashion industry's supply of white fabric yet." His eyes stopped on the tiny pearl button between her full breasts, and then on the pendant at the base of her throat. The open collar of her tailored silk shirt dipped respectfully enough for office attire, but allowed a peek at those luscious curves of hers. Did she still invest in that barely there underwear? His fingers itched to discover whether she wore lace or silk. Or anything at all.
"Why change what works?" Simone flicked an annoyed expression at him before offering a warm smile to Travis. "It's a pleasure to meet you, Travis. Do you mind if I have a word with your boss for a few minutes?"
"N-no." Travis's breath came out in a shudder. 
Vince walked around the kid to move beyond the bar. "Don't forget those shots for your customers. And take two pitchers to the back table for me. The construction workers are getting restless."
Travis nodded and blinked himself out of whatever hormonal trance Simone had put him in. 
"Do you mind?" Simone stopped him when he led her to a booth by the front window. "Back there?" She gestured to the cubby beside the bar where he normally did the daily books. The stubble of hair on the back of his neck prickled as he noticed the tight grip she had on her briefcase. Simone was nothing if not professional, but now he saw something he wasn't quite used to.
His ex-wife was nervous. 
Whatever pleasure he might have taken in causing her some temporary discomfort vanished as every ounce of training—from his service in the Marines to his subsequent years as a  private investigator—put him on guard. Whatever was going on had to be bad for Simone to turn up on his doorstep.
back to Top
"...people who follow my reviews also know I don't like the story to sway too far to one side or the other. I realize it is
 probably hard to strike that balance, but Anna J. Stewart does a wonderful job of creating romantic and sexual tension within a stellar crime story.
The plot is intelligent and the story is fast paced with plenty of twists and action. The romantic side worked just the way I like it, with plenty of buildup before the fireworks explode...I think any fan of RS would enjoy this one!!"
4.5 Stars, Top Pick, Night Owl Reviews (read full review here)
"This book grabs you from the beginning and takes you for quite the ride. There's plenty of mystery and suspense as the case unfolds and Vince and Simone, along with the help of her friends, unravel the mystery to reveal the truth. It keeps readers on their toes and guessing right along with the characters.
If you're looking for a good romantic suspense, you should give this one a read. You won't be disappointed."
~4.5 Stars, Harlequin Junkie Reviews (read full review here)
These two were so realistically written and the author did a great job of bringing them back together at an authentic pace while keeping the suspense growing and the sexual tension high...I am really looking forward to reading the finale to this trilogy. Ms. Stewart knows how to write romantic suspense that pulls you in and brings you back for more!"
~5 Stars, Top Pick, The Romance Reviews (read full review here)
"The story pulls you in from page one and doesn't let go, even after the last page is turned...There is a mystery written within that will leave you on the edge of your seat. Highly recommend Anna J. Stewart's REUNITED WITH THE P.I. to anyone seeking a great romance with a suspenseful story and characters that leave you feeling as if you know them. This was one of those perfect reads that had it all and left you wanting more. Now if only Ms. Stewart would write faster so I can get my hands on the next story I'd be good. A perfect Keeper Shelf story!"
5-Stars, My Book Addiction Reviews (read full review here)
"Anna J. Stewart definitely knows how to write a book that grabs the reader's attention. I could not put the book down. Once again she wrote an unpredictable complex plot that is filled with twists and unexpected surprises. I can't wait to finally solve the mystery that has been threaded throughout the first two books. I typically don't read series because I hate waiting for the next book. However, this series is the exception to my rule. I wholeheartedly recommend this book and the HONOR BOUND series."
~4.5 Stars, Long and Short Reviews (read full review here)