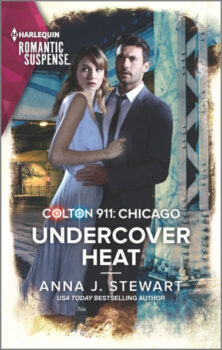 Colton 911: Chicago #3
March 1, 2021
Harlequin Romantic Suspense
Available in: Paperback, e-Book
Colton 911: Undercover Heat
USA TODAY **Bestselling Author
When her life is upended
A detective goes undercover to save it…**
After tragedy strikes, chef Tatum Colton buries herself in her job. Detective Cruz Medina soon rocks her world once again, claiming criminals are using her restaurant as a front for nefarious activities. Cruz needs Tatum's help to go undercover as her sous-chef, putting them both in the line of fire. But when things get hot in and out of the kitchen, can Cruz protect Tatum and their growing bond?
Mass market paperback edition published March 9, 2021.
**From Harlequin Romantic Suspense: Danger. Passion. Drama.
Colton 911: Chicago**
Book 1: Colton 911: The Secret Network by Marie Ferrarella
Book 2: Colton 911: Unlikely Alibi by Lisa Childs
Book 3: Colton 911: Undercover Heat by Anna J. Stewart