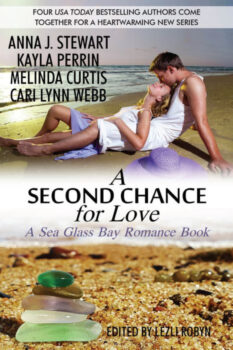 Sea Glass Bay #1
April 27, 2021
CAEZIK Romance
Available in: e-Book, Trade Size
A Second Chance for Love
With Mother's Day approaching, four women living in a picturesque coastal town discover a second chance at love when they finally find their happily-ever-after partners in this anthology of contemporary romance novellas.
HERO WANTED by Melinda Curtis
Single mom Leah Martin needs to find a wedding date for her ex-husband's wedding. Their son, Owen, is going to be the ringbearer and her attendance is required. But this florist has no time to date around the busy Mother's Day holiday, which is why she agrees to let her friends set her up for a blind date. Hank DeLeon's bar shares an alley with Leah's florist shop, which is the perfect location for a restaurant if she's willing to relocate. When he's asked to take her on a blind date, he has to wonder: is this a great chance for a business proposition? Or a once-in-a-lifetime chance at love?
MOM WANTED by Anna J. Stewart
Claire Bishop's life as an art teacher in Sea Glass Bay is full and rewarding, but her heart longs for a family she'll never have. When she agrees to help out widower, Sully Vaughn, by taking care of his daughter after school, Sully is concerned his little girl, Lindie, is growing too attached to her favorite teacher. Sully is trying his best to protect his child from the heartache of loss that nearly destroyed him, but he hasn't taken into account his passion for the dynamic woman—nor Lindie's determination to lay claim to the perfect mom.
FAMILY WANTED by Cari Lynn Webb
After a corporate restructuring at her accounting firm, Paige Duffy moved north to Sea Glass Bay and opened a handmade candle booth at the coastal town's popular local craft market. Now her severance is running out and Paige discovers she's pregnant from a one night stand. Charter boat owner, Gavin Cole, lost his grandfather six months ago, promising him he'd finally pursue his dreams of sailing the open ocean. But when Paige tells him that she's pregnant with his child, Gavin must decide what adventure he really wants: the one he's always dreamed of, or the one he never believed possible.
Also includes: FATHER WANTED by Kayla Perrin